The Need for Speed movie is here! This Saturday, the movie was premiered in Ede, the Netherlands. And to make the premiere extra spectacular, over 200 supercars were invited, including our Cobalt Blue V12 Roadster and our yellow italian monster.
Gathering at JD Customs
The fun began early, as around 40 of the invited supercars gathering at JD Customs in Bergschenhoek. The group included 4 Astons, my V12 Roadster, a DBS, a DBS Volante and a V12 Vanquish, and a very special selection of other supercars, like two Bugatti Veyrons, two Lamborghini Aventadors, a Rolls Royce Ghost, a Mercedes SLS AMG and my own yellow Ferrari 458 Italia.
Fuel stop
On our way to Ede, we stopped at a gas station to meet with more supercars.
Arriving in Ede
Our arrival in Ede was total chaos, as thousands of spectators had come to see the "most expensive traffic jam" ever.
Parking at the cinema
The parking at the cinema was the main attraction for all spectators. As you can see, our Blue roadster found itself a nice spot between two expensive friends 🙂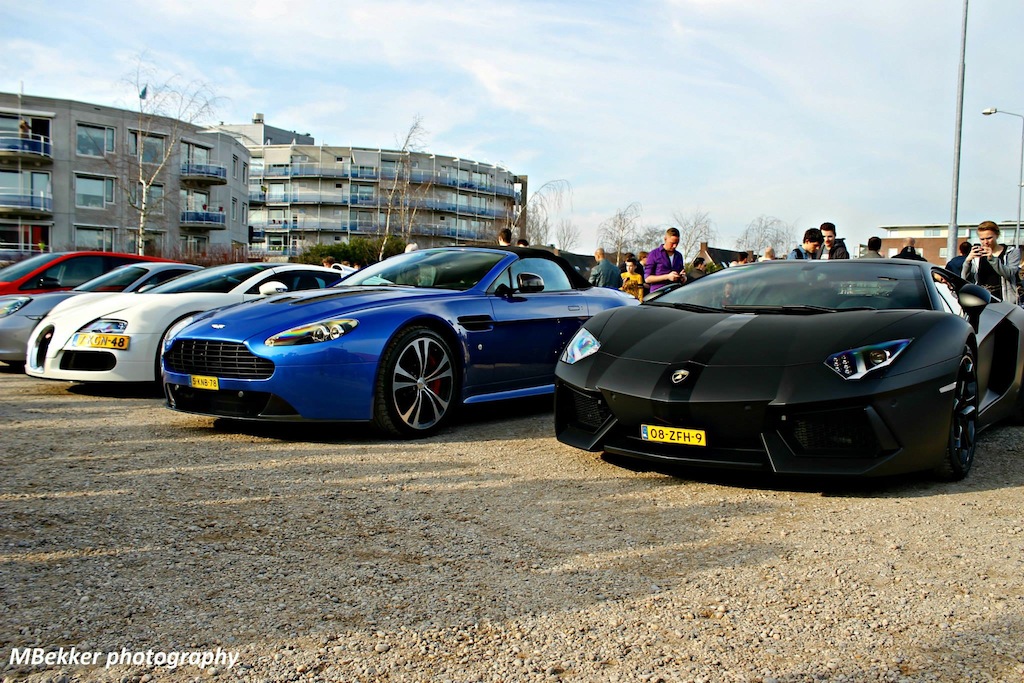 Photo credits: Mitchell Bekker, Mats Bulters, Quinten van Stiphout, Michael de Jong, Mitchell van Alphen, Frans Bulterman and Van Dorp Exclusive Automobiles.
Need for Speed movie trailer:
Almost forgot what we came for: the movie. Entertaining and some impressive action scenes. But I must say, the drive to Ede was more spectacular 🙂
Here's the Need for Speed movie trailer: